Domburcht - Bed (and breakfast)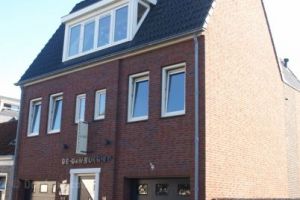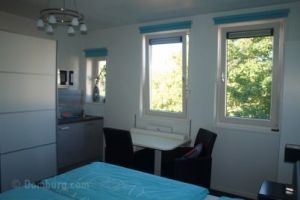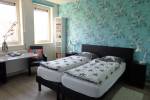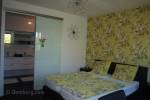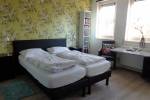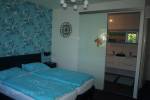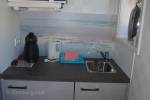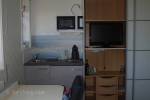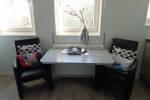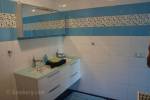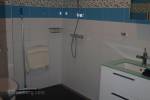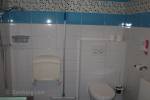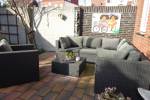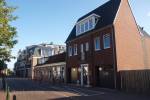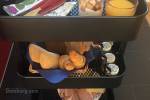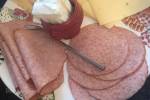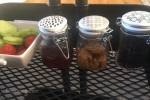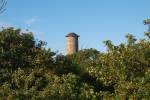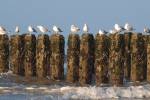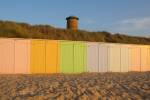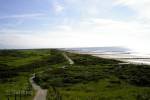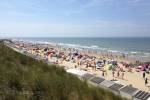 We rent out 2 spacious double rooms. Both rooms have their own spacious bathroom with toilet, shower, folding shower seat, double sink, hair dryer and various toiletries.
The rooms also have a kitchenette with fridge with freezer compartment, microwave, electric kettle, Krups Dolce Gusto machine and sink, flat screen cable TV and single beds.

Linen and towels are included.
Pets are not allowed in our accommodation. Our entire accommodation is also non-smoking.

The entire Bed and Breakfast has free wifi. There is also an elevator for people with walking difficulties.
The rooms can be booked with or without breakfast.

Prices for a double room: Between € 47.50 and € 57.50 per person per night without breakfast
Additional cost:
Tourist tax 2022: €2 per person per night
Tourist tax 2023: €2.05 per person per night
Breakfast: € 10.50 per person per day
Park costs: € 4 per day

The municipality of Veere has significantly changed the parking policy in Domburg from 1 April 2021. All parking spaces in the village are now paid or allocated to permit holders. The free parking spaces in the village have disappeared and the parking fees have also increased considerably. Fortunately, we can still offer you a parking space at a favorable rate (€4 per day). On arrival you will receive a map with the locations where you can park your car.
For information and reservation
Mevr. J. Louws
Badstraat 11, Domburg
mob. +31 653 674 263
mail.
E-mail
web.
Website
Characteristics
Price indication: €47,50 to €57,50 per night per person.
Max. 2 personen.
Pets not allowed.
No smoking.
B&B Service
Choice between inclusive or exclusive breakfast.
Kitchen
Refrigerator.
Freezer compartment.
Coffee machine.
Water boiler.
Microwave.
Media
Wi-Fi internet.
TV.
Foreign TV channels.
Location
Distance to the beach: ±50 m.
Distance to the city centre: ±50 m.
Not on holiday park.
Occupancy rate
November 2022
44
1
2
3
4
5
6
45
7
8
9
10
11
12
13
46
14
15
16
17
18
19
20
47
21
22
23
24
25
26
27
48
28
29
30
December 2022
48
1
2
3
4
49
5
6
7
8
9
10
11
50
12
13
14
15
16
17
18
51
19
20
21
22
23
24
25
52
26
27
28
29
30
31
January 2023
52
1
01
2
3
4
5
6
7
8
02
9
10
11
12
13
14
15
03
16
17
18
19
20
21
22
04
23
24
25
26
27
28
29
05
30
31
February 2023
05
1
2
3
4
5
06
6
7
8
9
10
11
12
07
13
14
15
16
17
18
19
08
20
21
22
23
24
25
26
09
27
28
March 2023
09
1
2
3
4
5
10
6
7
8
9
10
11
12
11
13
14
15
16
17
18
19
12
20
21
22
23
24
25
26
13
27
28
29
30
31
April 2023
13
1
2
14
3
4
5
6
7
8
9
15
10
11
12
13
14
15
16
16
17
18
19
20
21
22
23
17
24
25
26
27
28
29
30
May 2023
18
1
2
3
4
5
6
7
19
8
9
10
11
12
13
14
20
15
16
17
18
19
20
21
21
22
23
24
25
26
27
28
22
29
30
31
June 2023
22
1
2
3
4
23
5
6
7
8
9
10
11
24
12
13
14
15
16
17
18
25
19
20
21
22
23
24
25
26
26
27
28
29
30
July 2023
26
1
2
27
3
4
5
6
7
8
9
28
10
11
12
13
14
15
16
29
17
18
19
20
21
22
23
30
24
25
26
27
28
29
30
31
31
August 2023
31
1
2
3
4
5
6
32
7
8
9
10
11
12
13
33
14
15
16
17
18
19
20
34
21
22
23
24
25
26
27
35
28
29
30
31
September 2023
35
1
2
3
36
4
5
6
7
8
9
10
37
11
12
13
14
15
16
17
38
18
19
20
21
22
23
24
39
25
26
27
28
29
30
October 2023
39
1
40
2
3
4
5
6
7
8
41
9
10
11
12
13
14
15
42
16
17
18
19
20
21
22
43
23
24
25
26
27
28
29
44
30
31
November 2023
44
1
2
3
4
5
45
6
7
8
9
10
11
12
46
13
14
15
16
17
18
19
47
20
21
22
23
24
25
26
48
27
28
29
30
December 2023
48
1
2
3
49
4
5
6
7
8
9
10
50
11
12
13
14
15
16
17
51
18
19
20
21
22
23
24
52
25
26
27
28
29
30
31
January 2024
01
1
2
3
4
5
6
7
02
8
9
10
11
12
13
14
03
15
16
17
18
19
20
21
04
22
23
24
25
26
27
28
05
29
30
31
Location