Mondriaan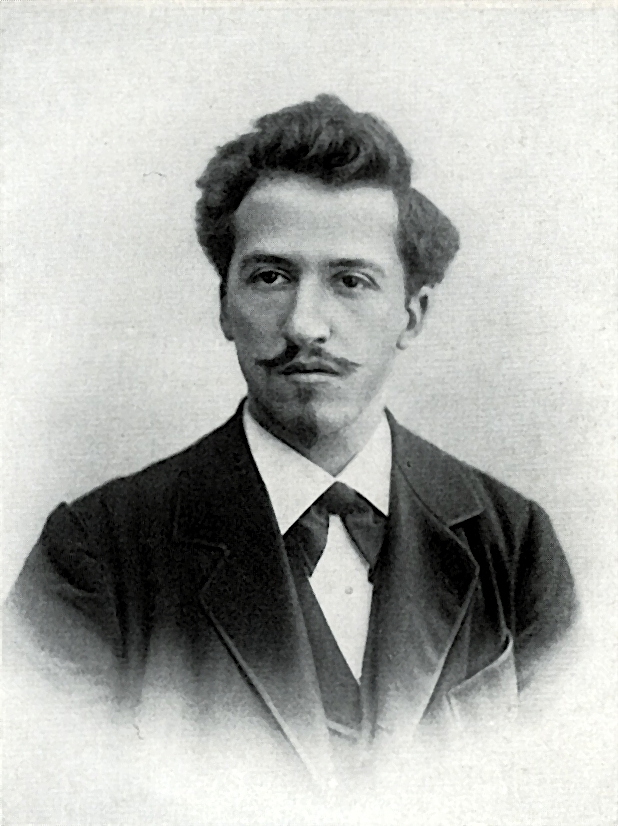 The light of Zeeland. We see it every day and because of this we are, logically, no longer dwell on the particularity of it. Still this bright light of Zeeland has brought us lots of beautifuls. This was for different prominent painters an important reason to perch here. Also for Pieter Cornelus Mondriaan (1872-1944).
In 1908 Mondriaan is spending for the first time two weeks in Domburg. He concentrates at four motifs from Domburg : the church, the lighthouse of Westkapelle, the dunes and the sea. He lived at the Zuidstraat at number 10.
His period in Domburg has been important for his development. For the first time he expressed the colours as he saw them, not as they were. A good example of this is the painting of the church tower. The colours differ from reality. Undoubtedly caused by the light of Zeeland.
As regards to lines Mondriaan adheres however a lot closer to reality. He based at a drawing of the tower whcih he made before. Through the simplification of the planes and the tightening of the colour the image gets a big monumental look. Later on Mondriaan continues with this. All memories about the tower are dropped and he left in a series of drawings only the rhythm of the building. He does the same thing with the lighthouse of Westkapelle.
Finally Mondriaan stayed with intervals until 1916 in Domburg. Here after he established in Laren where he is mainly engaged with writing down his theory in regard to the art of painting. You could find here a review of a number of works Mondriaan made during his stays in Domburg.
Fotogalerie
Domburgse Piet Mondriaanroute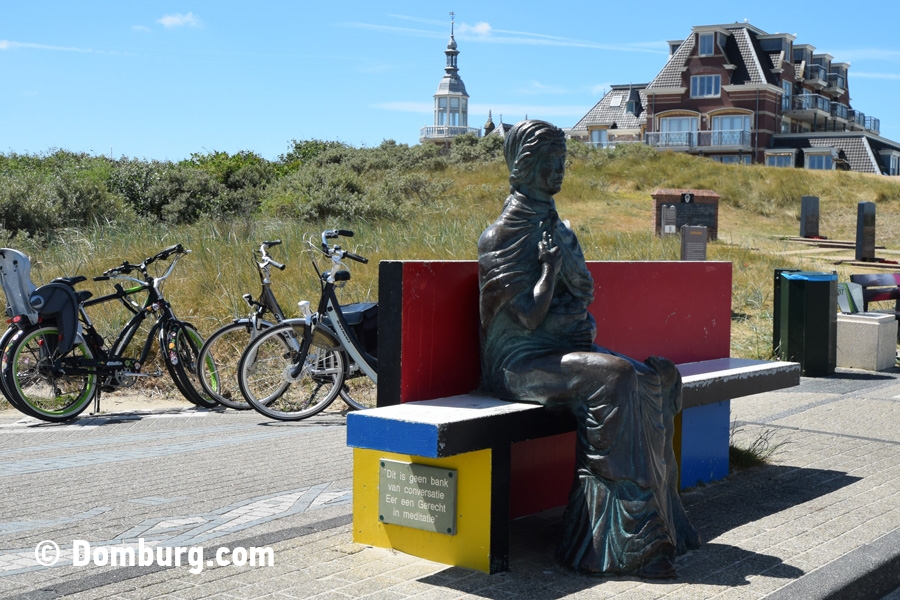 Protestantse Kerk - ca. 1250;
Van deze Protestantse kerk schilderde Mondriaan meerdere werken.
Hoge hil;
De Hoge Hil heeft nog steeds een aantrekkingskracht op dichters en schilders. Geniet van het uitzicht. Bij zonnig weer kunt u de vuurtoren van Westkapelle en de Belgische kust goed zien.
Mondriaanbank - 1989;
De Mondriaanbank verbindt heden met verleden. Bij Domburg zijn al in 1647 resten van een Nehalennia-tempel gevonden. De inheemse godign Nehalennia, vaak afgebeeld met een hond aan haar voeten en een schaal appels op haar schoot, was in de Romeinse tijd vermoedelijk een beschermgodin voor scheepvaart en handel. Zij zit op een door kunstenaar Guido Metsers in Mondriaan-stijl (rood-blauw-geel-zwart) beschilderde bank en geeft zo vorm aan het oude gebruik van de 'klapbank' waar het nieuws van de dag als door een volksgericht werd besproken. Op de plaquette van de Mondriaanbank staat te lezen: 'Dit is geen bank van conversatie. Eer een Gerecht in meditatie'.
Mantelinge bos;
Ook dit bos met zijn kronkelende takken is meerdere malen vast gelegd door Mondriaan.
Marie Tak van Poortvliet Museum;
Het museum organiseert twee keer per jaar een tentoonstelling over kunstenaars die een band met Zeeland hebben.
Molen Weltevreden - 1817;
Ook de molen Weltevreden in Domburg is door Modriaan meerdere malen geschilderd.
Map
Get Directions