J.W. Schuurmanstraat 104a - Bed (and breakfast)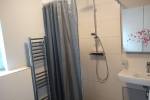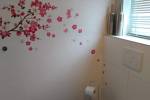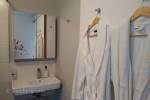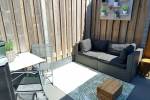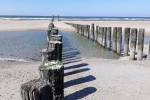 Tiny house -Small and charming accommodation in the old town of Domburg- Our house is located in a very quiet residential area of ​​Domburg. The center, the famous bathing beach and the forest are within walking distance.

The en suite room (18 m2) has a modern design and a double bed. The space is located on our backyard and offers a lot of privacy and tranquility. The accommodation has its own lockable entrance.

There is a coffee maker (Senseo), kettle, egg cooker, fridge, flat screen TV, chairs, table, cupboards, toilet paper, use of towels and bed linen.

When the weather is nice you can fully enjoy the lounge set with a cup of coffee or tea in the sun and the tranquility in the garden.

Breakfast is included and different than usual. We ensure that the refrigerator is well stocked with spreads (sweet and savory), milk, orange juice, yogurt and (raw) eggs. You have to arrange bread yourself, so you can prepare your favorite breakfast.

We adhere to the set RIVM guidelines.

Arrival days: every day after 1 p.m. and in consultation with regard to cleaning
Departure days: every day before 10 a.m.

NB. To be paid upon arrival
tourist tax € 2 p.p.p.n. (Municipality of Veere)
final cleaning € 15
Free parking
For information and reservation
Petra en Rudy
J.w. Schuurmanstraat 104-a, Domburg
mob. +31 618 223 423
mail.
E-mail
Characteristics
Price indication: €85,00 to €95,00 per night.
Max. 2 personen.
Floor space: ±18 m².
Pets not allowed.
No smoking.
Kitchen
Refrigerator.
Coffee machine.
Water boiler.
Combi microwave.
Media
Wi-Fi internet.
TV.
Foreign TV channels.
Radio.
Outside
Garden.
Terrace.
Garden furniture.
Lounge set.
Car parking place.
Location
Distance to the beach: ±300 m.
Distance to the city centre: ±450 m.
Not on holiday park.
By the sea.
Occupancy rate
October 2022
39
1
2
40
3
4
5
6
7
8
9
41
10
11
12
13
14
15
16
42
17
18
19
20
21
22
23
43
24
25
26
27
28
29
30
44
31
November 2022
44
1
2
3
4
5
6
45
7
8
9
10
11
12
13
46
14
15
16
17
18
19
20
47
21
22
23
24
25
26
27
48
28
29
30
December 2022
48
1
2
3
4
49
5
6
7
8
9
10
11
50
12
13
14
15
16
17
18
51
19
20
21
22
23
24
25
52
26
27
28
29
30
31
January 2023
52
1
01
2
3
4
5
6
7
8
02
9
10
11
12
13
14
15
03
16
17
18
19
20
21
22
04
23
24
25
26
27
28
29
05
30
31
February 2023
05
1
2
3
4
5
06
6
7
8
9
10
11
12
07
13
14
15
16
17
18
19
08
20
21
22
23
24
25
26
09
27
28
March 2023
09
1
2
3
4
5
10
6
7
8
9
10
11
12
11
13
14
15
16
17
18
19
12
20
21
22
23
24
25
26
13
27
28
29
30
31
April 2023
13
1
2
14
3
4
5
6
7
8
9
15
10
11
12
13
14
15
16
16
17
18
19
20
21
22
23
17
24
25
26
27
28
29
30
May 2023
18
1
2
3
4
5
6
7
19
8
9
10
11
12
13
14
20
15
16
17
18
19
20
21
21
22
23
24
25
26
27
28
22
29
30
31
June 2023
22
1
2
3
4
23
5
6
7
8
9
10
11
24
12
13
14
15
16
17
18
25
19
20
21
22
23
24
25
26
26
27
28
29
30
July 2023
26
1
2
27
3
4
5
6
7
8
9
28
10
11
12
13
14
15
16
29
17
18
19
20
21
22
23
30
24
25
26
27
28
29
30
31
31
August 2023
31
1
2
3
4
5
6
32
7
8
9
10
11
12
13
33
14
15
16
17
18
19
20
34
21
22
23
24
25
26
27
35
28
29
30
31
September 2023
35
1
2
3
36
4
5
6
7
8
9
10
37
11
12
13
14
15
16
17
38
18
19
20
21
22
23
24
39
25
26
27
28
29
30
October 2023
39
1
40
2
3
4
5
6
7
8
41
9
10
11
12
13
14
15
42
16
17
18
19
20
21
22
43
23
24
25
26
27
28
29
44
30
31
November 2023
44
1
2
3
4
5
45
6
7
8
9
10
11
12
46
13
14
15
16
17
18
19
47
20
21
22
23
24
25
26
48
27
28
29
30
December 2023
48
1
2
3
49
4
5
6
7
8
9
10
50
11
12
13
14
15
16
17
51
18
19
20
21
22
23
24
52
25
26
27
28
29
30
31
January 2024
01
1
2
3
4
5
6
7
02
8
9
10
11
12
13
14
03
15
16
17
18
19
20
21
04
22
23
24
25
26
27
28
05
29
30
31
Location