Burg. Bosselaarstraat 7 - Pinkeltje - Cottage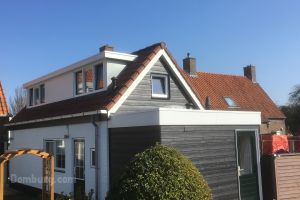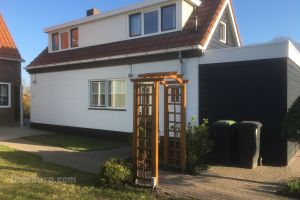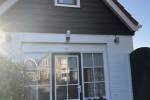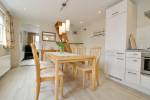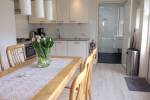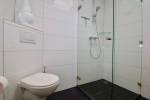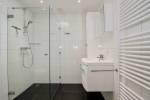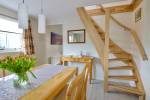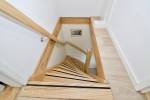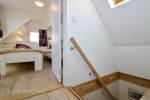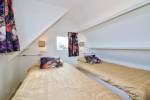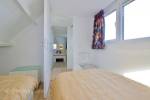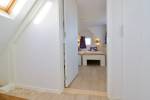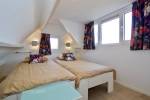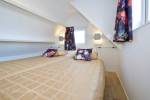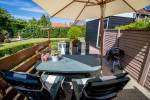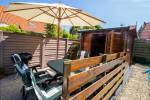 Vakantiewoning "Pinkeltje" 2 Km van Domburg nodigt u van harte uit! Comfortabele vakantiewoning voor een gezin met 2/3 kinderen of vier volwassenen. De vakantiewoning is gelegen naast het huis van de verhuurder.

Indeling vakantiewoning:
De woning heeft een woonkamer met lcd-tv, sterio installatie met cd speler en dvd speler. Ruime luxe keuken van alle gemakken voorzien zoals: vaatwasmachine, combi magnetronoven, juspers, toaster, waterkoker en koffiezetapparaat. Badkamer :inloopdouche, toilet en badkamermeubel. Centrale verwarming

Verdieping: 2 aparte bedden met op één slaapkamer de mogelijkheid voor het plaatsen van een kinderbed.

Buiten: Ruim grasveld waarop de kinderen naar hartenlust kunnen spelen. Terras waar u de gehele dag van de zon kunt genieten. Elektrische barbecue. Berging

Inbegrepen: Wlan-Inernet aansluiting , linnengoed, thee-en handdoek. Buitenom reinigingskosten en toeristenbelasting geen verdere kosten.

Aankomsten en vertrek zijn op zaterdag. Van november tot april ook op andere dagen.
For information and reservation
E.j. van den Driest-Peper
Burg. Bosselaarstraat 7, Aagtekerke
tel. +31 118 582 977
mob. +31 630 512 656
mail.
E-mail
Characteristics
Price indication: €350,00 to €700,00 per week.
Max. 4 personen.

Bedrooms: 2.
Bedden: 4.
Bathrooms: 1.

Floor space: ±80 m².
Pets not allowed.
Washing machine.
Safebox.
Kitchen
Refrigerator.
Freezer compartment.
Water boiler.
Citrus press.
Dishwasher.
Oven.
Microwave.
Combi microwave.
Media
Wi-Fi internet.
TV.
Foreign TV channels.
Radio.
CD-player.
Child Facilities
High chair (child/baby chair).
Cot / child's bed.
Outside
Garden.
Terrace.
Garden furniture.
Car parking place.
Storage room.
BBQ.
Location
Distance to the beach: ±2,3 km.
Distance to the city centre: ±2,0 km.
Occupancy rate
November 2022
44
1
2
3
4
5
6
45
7
8
9
10
11
12
13
46
14
15
16
17
18
19
20
47
21
22
23
24
25
26
27
48
28
29
30
December 2022
48
1
2
3
4
49
5
6
7
8
9
10
11
50
12
13
14
15
16
17
18
51
19
20
21
22
23
24
25
52
26
27
28
29
30
31
January 2023
52
1
01
2
3
4
5
6
7
8
02
9
10
11
12
13
14
15
03
16
17
18
19
20
21
22
04
23
24
25
26
27
28
29
05
30
31
February 2023
05
1
2
3
4
5
06
6
7
8
9
10
11
12
07
13
14
15
16
17
18
19
08
20
21
22
23
24
25
26
09
27
28
March 2023
09
1
2
3
4
5
10
6
7
8
9
10
11
12
11
13
14
15
16
17
18
19
12
20
21
22
23
24
25
26
13
27
28
29
30
31
April 2023
13
1
2
14
3
4
5
6
7
8
9
15
10
11
12
13
14
15
16
16
17
18
19
20
21
22
23
17
24
25
26
27
28
29
30
May 2023
18
1
2
3
4
5
6
7
19
8
9
10
11
12
13
14
20
15
16
17
18
19
20
21
21
22
23
24
25
26
27
28
22
29
30
31
June 2023
22
1
2
3
4
23
5
6
7
8
9
10
11
24
12
13
14
15
16
17
18
25
19
20
21
22
23
24
25
26
26
27
28
29
30
July 2023
26
1
2
27
3
4
5
6
7
8
9
28
10
11
12
13
14
15
16
29
17
18
19
20
21
22
23
30
24
25
26
27
28
29
30
31
31
August 2023
31
1
2
3
4
5
6
32
7
8
9
10
11
12
13
33
14
15
16
17
18
19
20
34
21
22
23
24
25
26
27
35
28
29
30
31
September 2023
35
1
2
3
36
4
5
6
7
8
9
10
37
11
12
13
14
15
16
17
38
18
19
20
21
22
23
24
39
25
26
27
28
29
30
October 2023
39
1
40
2
3
4
5
6
7
8
41
9
10
11
12
13
14
15
42
16
17
18
19
20
21
22
43
23
24
25
26
27
28
29
44
30
31
November 2023
44
1
2
3
4
5
45
6
7
8
9
10
11
12
46
13
14
15
16
17
18
19
47
20
21
22
23
24
25
26
48
27
28
29
30
December 2023
48
1
2
3
49
4
5
6
7
8
9
10
50
11
12
13
14
15
16
17
51
18
19
20
21
22
23
24
52
25
26
27
28
29
30
31
January 2024
01
1
2
3
4
5
6
7
02
8
9
10
11
12
13
14
03
15
16
17
18
19
20
21
04
22
23
24
25
26
27
28
05
29
30
31
Location