Schuur links - Hoeve Plantlust - Cottage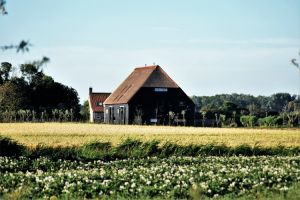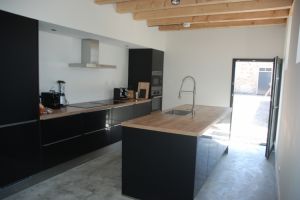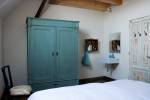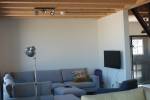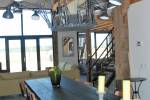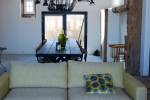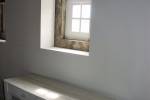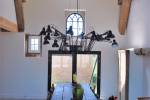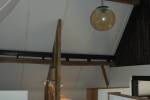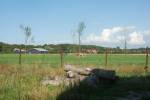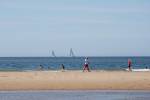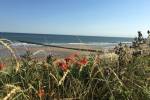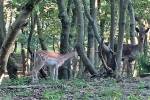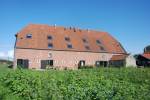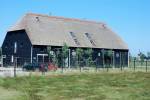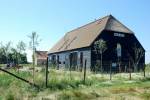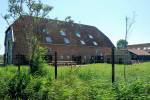 THE TWO HOUSES IN THE BARN (16-20 PERSONS)
The large clapboard barn houses two exclusive modern house rentals without diminishing the beautiful character of the former barn. For example, a stunning glass front is now hiding behind the old cattle doors. This offers a delightful view of the beautiful landscape of Zeeland from the spacious living room.

The houses have plenty of space. On the ground floor, there is a spacious living room with several sitting areas: around the wood-burning stove, in front of the television or just to "chill out". It also features a charming long table at which at least 20 persons can eat/sit. The kitchen is truly fully equipped. It has two induction hobs, two refrigerators, a dishwasher, a large oven and a microwave. It is cosy and makes cooking easy for both small and larger groups.

The heart of the house is formed by a mezzanine floor: a wonderful, spacious mezzanine that connects the different parts of the house.

DOWNSTAIRS:
- Entrance hall with toilet and technical area (washing machine and dryer).
- Large folding cattle doors leading to the garden and folding doors to the south side of the garden on the other side as well.
- Spacious open-plan living room with underfloor heating and wood-burning stove. The living room is divided into multiple living areas: 'Formal' seating area by the fireplace, "chill area" with television, and dining area with long dining table next to the kitchen.
- Large kitchen with sink, two induction hobs, an oven, a microwave and two refrigerators. In addition, there is a large cooking island with a dishwasher.
- From the living room, a passage via an old barn door (sliding door) leads to two spacious bedrooms and a large bathroom with shower, washbasin and toilet. This part is completely accessible for the elderly and disabled persons.

UPSTAIRS:
- When you go upstairs via the beautiful industrial steel staircase with oak steps, you come to the landing with access to 2 large bedrooms, a bathroom with shower and washbasin and a separate toilet.
- Further up the stairs, you come to a spacious open-plan mezzanine: de mezzanine floor. This floor gives access to the other side of the house.
- From the mezzanine, a staircase takes you downstairs to a landing with access to 2 bedrooms, a bathroom and a toilet, and a large closet. - You can reach the second floor via another staircase. Here, you will find a bedroom, a bathroom, a toilet and a small half-open space with a sofa bed.
- On the intermediate floor, there is a fourth staircase that leads to the large, open sleeping/playing loft, where 4 more sleeping places have been realised.
For information and reservation
Karien Evers
Wijkhuijsweg 2, Oostkapelle
tel. +31 645 748 635
mail.
E-mail
web.
Website
Characteristics
Price indication: €50,00 to €75,00 per night per person.
Max. 20 personen.

Bedrooms: 8.
Bedden: 20.
Slaapbank (tweepersoons).
Bathrooms: 4.

Pets allowed after consultation.
No smoking.
Washing machine.
Dryer.
Wood stove.
Kitchen
Refrigerator.
Freezer.
Coffee machine.
Water boiler.
Toaster.
Dishwasher.
Oven.
Microwave.
Sanitary
Shower.
Sauna.
Toilet.
Second toilet.
Sink.
Child Facilities
High chair (child/baby chair).
Campingbed.
Children's box.
Outside
Garden.
Terrace.
Garden furniture.
Car parking place.
BBQ.
Location
Distance to the beach: ±2,5 km.
Not on holiday park.
By the sea.
Detached.
Occupancy rate
December 2022
48
1
2
3
4
49
5
6
7
8
9
10
11
50
12
13
14
15
16
17
18
51
19
20
21
22
23
24
25
52
26
27
28
29
30
31
January 2023
52
1
01
2
3
4
5
6
7
8
02
9
10
11
12
13
14
15
03
16
17
18
19
20
21
22
04
23
24
25
26
27
28
29
05
30
31
February 2023
05
1
2
3
4
5
06
6
7
8
9
10
11
12
07
13
14
15
16
17
18
19
08
20
21
22
23
24
25
26
09
27
28
March 2023
09
1
2
3
4
5
10
6
7
8
9
10
11
12
11
13
14
15
16
17
18
19
12
20
21
22
23
24
25
26
13
27
28
29
30
31
April 2023
13
1
2
14
3
4
5
6
7
8
9
15
10
11
12
13
14
15
16
16
17
18
19
20
21
22
23
17
24
25
26
27
28
29
30
May 2023
18
1
2
3
4
5
6
7
19
8
9
10
11
12
13
14
20
15
16
17
18
19
20
21
21
22
23
24
25
26
27
28
22
29
30
31
June 2023
22
1
2
3
4
23
5
6
7
8
9
10
11
24
12
13
14
15
16
17
18
25
19
20
21
22
23
24
25
26
26
27
28
29
30
July 2023
26
1
2
27
3
4
5
6
7
8
9
28
10
11
12
13
14
15
16
29
17
18
19
20
21
22
23
30
24
25
26
27
28
29
30
31
31
August 2023
31
1
2
3
4
5
6
32
7
8
9
10
11
12
13
33
14
15
16
17
18
19
20
34
21
22
23
24
25
26
27
35
28
29
30
31
September 2023
35
1
2
3
36
4
5
6
7
8
9
10
37
11
12
13
14
15
16
17
38
18
19
20
21
22
23
24
39
25
26
27
28
29
30
October 2023
39
1
40
2
3
4
5
6
7
8
41
9
10
11
12
13
14
15
42
16
17
18
19
20
21
22
43
23
24
25
26
27
28
29
44
30
31
November 2023
44
1
2
3
4
5
45
6
7
8
9
10
11
12
46
13
14
15
16
17
18
19
47
20
21
22
23
24
25
26
48
27
28
29
30
December 2023
48
1
2
3
49
4
5
6
7
8
9
10
50
11
12
13
14
15
16
17
51
18
19
20
21
22
23
24
52
25
26
27
28
29
30
31
January 2024
01
1
2
3
4
5
6
7
02
8
9
10
11
12
13
14
03
15
16
17
18
19
20
21
04
22
23
24
25
26
27
28
05
29
30
31
Location