Lighthouse Noorderhoofd - Westkapelle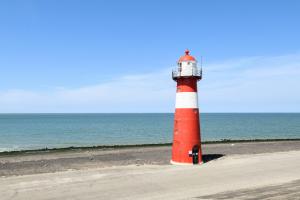 The Noorderhoofd (also called the low lighthouse of Westkapelle or Westkapelle Laag) is the second lighthouse in Westkapelle next to the high lighthouse in the village.
The tower is red, with a white band. The light from the tower has three colors; red, white and green. They are separated by a kind of curtain. The white light sector is 6,000 candela, the red and green both 1,800 candela.
Characteristic
Name: Noorderhoofd or 't Lage Licht
Built: 1874
Tower height: 16 m
Light height (above sea level): 20,0 m
Floors: 4
Manned: No
Open to the public: Yes
Furthermore Lighthouse Noorderhoofd - Westkapelle is near the following sights: Lighthouse 't Hoge Licht - Westkapelle (±1,4 km), Polderhuis (±1,4 km) & Surfschool Domburg (±2,9 km).
For information:
Zeedijk 5, Westkapelle
web.
Website