Roosjesweg 5 - Cottage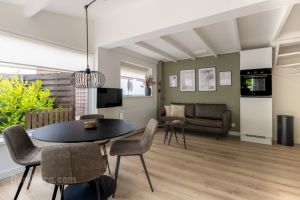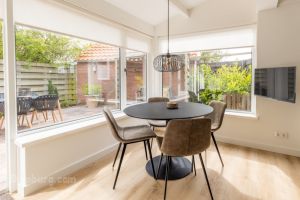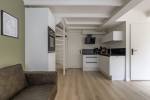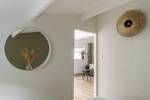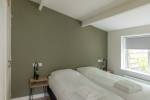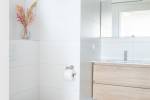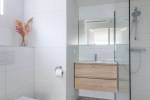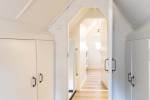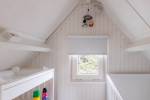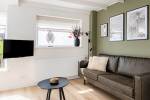 Welcome to our fully renovated vacation home in Domburg with beach house (Available from May till the end of September!)

The beach and the forest are only 600 meters away. On the way you walk along the town center, here you will find nice stores and many good restaurants.

The vacation home has a private garden where you can enjoy your peace and privacy.

The house has a fully equipped kitchen with all modern appliances.

The master bedroom, with two box spring beds, and the bathroom with walk-in shower are on the first floor. The little upstairs has two children's bedrooms. One room is furnished as a baby room with a crib (60x120) and a dresser. The other room has a single bed (80x200). As you can see from the pictures, it is a cozy room where it is only possible to stand upright in the middle as adults.

The beach house is located on a quiet beach where dogs are aloud to run free and it's about 1.8 km from the accommodation. In the beach house you'll find chairs, a table, windscreen and a beach umbrella.

Dogs on request.
For information and reservation
Annemiek Janse
Roosjesweg 5, Domburg
tel. +31 642 970 751
mail.
E-mail
Characteristics
Max. 3 personen.

Bedrooms: 2.
Bedden: 2.
Bathrooms: 1.

Pets allowed after consultation.
No smoking.
Kitchen
Refrigerator.
Freezer compartment.
Coffee machine.
Water boiler.
Dishwasher.
Oven.
Child Facilities
High chair (child/baby chair).
Cot / child's bed.
Outside
Garden.
Terrace.
Garden furniture.
Car parking place.
Location
Distance to the beach: ±600 m.
Distance to the city centre: ±450 m.
Not on holiday park.
Detached.
Occupancy rate
December 2022
48
1
2
3
4
49
5
6
7
8
9
10
11
50
12
13
14
15
16
17
18
51
19
20
21
22
23
24
25
52
26
27
28
29
30
31
January 2023
52
1
01
2
3
4
5
6
7
8
02
9
10
11
12
13
14
15
03
16
17
18
19
20
21
22
04
23
24
25
26
27
28
29
05
30
31
February 2023
05
1
2
3
4
5
06
6
7
8
9
10
11
12
07
13
14
15
16
17
18
19
08
20
21
22
23
24
25
26
09
27
28
March 2023
09
1
2
3
4
5
10
6
7
8
9
10
11
12
11
13
14
15
16
17
18
19
12
20
21
22
23
24
25
26
13
27
28
29
30
31
April 2023
13
1
2
14
3
4
5
6
7
8
9
15
10
11
12
13
14
15
16
16
17
18
19
20
21
22
23
17
24
25
26
27
28
29
30
May 2023
18
1
2
3
4
5
6
7
19
8
9
10
11
12
13
14
20
15
16
17
18
19
20
21
21
22
23
24
25
26
27
28
22
29
30
31
June 2023
22
1
2
3
4
23
5
6
7
8
9
10
11
24
12
13
14
15
16
17
18
25
19
20
21
22
23
24
25
26
26
27
28
29
30
July 2023
26
1
2
27
3
4
5
6
7
8
9
28
10
11
12
13
14
15
16
29
17
18
19
20
21
22
23
30
24
25
26
27
28
29
30
31
31
August 2023
31
1
2
3
4
5
6
32
7
8
9
10
11
12
13
33
14
15
16
17
18
19
20
34
21
22
23
24
25
26
27
35
28
29
30
31
September 2023
35
1
2
3
36
4
5
6
7
8
9
10
37
11
12
13
14
15
16
17
38
18
19
20
21
22
23
24
39
25
26
27
28
29
30
October 2023
39
1
40
2
3
4
5
6
7
8
41
9
10
11
12
13
14
15
42
16
17
18
19
20
21
22
43
23
24
25
26
27
28
29
44
30
31
November 2023
44
1
2
3
4
5
45
6
7
8
9
10
11
12
46
13
14
15
16
17
18
19
47
20
21
22
23
24
25
26
48
27
28
29
30
December 2023
48
1
2
3
49
4
5
6
7
8
9
10
50
11
12
13
14
15
16
17
51
18
19
20
21
22
23
24
52
25
26
27
28
29
30
31
January 2024
01
1
2
3
4
5
6
7
02
8
9
10
11
12
13
14
03
15
16
17
18
19
20
21
04
22
23
24
25
26
27
28
05
29
30
31
Offers and Lastminutes
– : from €118 for €75 per night
Location