Marie Tak van Poortvliet - Museum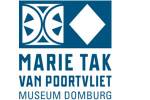 The Marie department of the Poortvliet Museum in Domburg successfully organizes exhibitions twice a year with the participants of the old exhibitions of contemporary artists connected with Zeeland, and also - in the context of contacts between European artists colonies themselves - around other controversial colonies late nineteenth and early twentieth century.
Furthermore Marie Tak van Poortvliet is near the following sights: Old Town Hall (±70 m), Galerie Zeevonk (±100 m), Weltevreden Mill (±200 m), Badpaviljoen (±300 m) & Villa Carmen Sylva (±300 m).
For information:
Marie Tak van Poortvliet Museum
Ooststraat 10a, Domburg
tel. +31 118 584 618
web.
Website
Location