Old Town Hall - Monument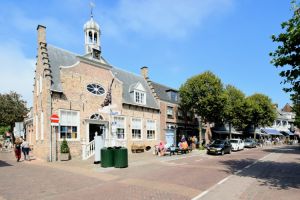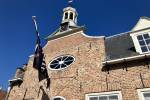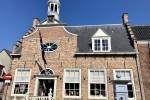 The old Town Hall is a monumental building located at the Markt in Domburg. The current building was built in 1567 and it is most likely that a Town Hall had been on the very same spot in 1545. The building is the second oldest building in Domburg, with only the church being older. The building has two stepped gables, a pivoted gable on the front side with a cornice and double curbed entrance. The front side and the platform have been rebuilt in 1822.
The octagonal open tower has a wind vane with the Domburg coat of arms between a merman and a mermaid. The tower already had a clockwork in the 16th century. The bell hanging in the tower was bought in 1749 in Amsterdam. In 1912, B. Eijsbouts from Asten installed a new timepiece. Remarkable is that this clock beats the number of hours on the half hour and beats one time on full hours. This was being done because the much heavier, and therefore more distinguishable church clock from Domburg, beats one time at halve hours. That way they knew which half hour it was.
The former Town Hall of Domburg is an official national State Monument since 1966. After the restructuring of municipal governments in the beginning of the 19th century, the 'town hall' became a 'city hall'. Because the municipalities Domburg and Veere merged, the building hasn't been used as a government building since 1997. Nowadays it houses an antique-, and interior shop which ensures that the atmosphere of the building is kept intact.
Open for the public: Yes, the building is in use as shop.
Furthermore Old Town Hall is near the following sights: Galerie Zeevonk (±40 m), Marie Tak van Poortvliet (±70 m), Badpaviljoen (±250 m), Villa Carmen Sylva (±250 m) & Weltevreden Mill (±250 m).
For information:
Markt 1, Domburg
Location