Villa Carmen Sylva - Monument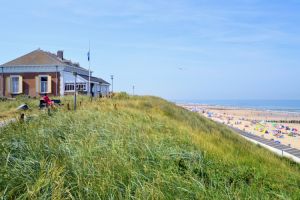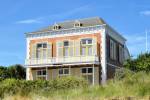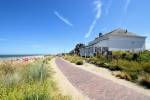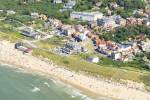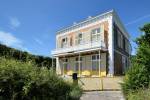 Villa Carmen Sylva is a national monument located in the dunes near Domburg. It was built in 1885 as Villa Maria by order of the 'eau de cologne' producer Franz Aldenbruck (1837–1900) from Cologne.
The building is designed by the architect Johannes van Nieukerken (1854–1913) from Middelburg, who would later also design the neighboring Badpaviljoen. The villa is built in eclectic style, as a summer residence, and therefore doesn't have cavity walls nor central heating. The house has a Mediterranean feel, partly as a result of the used color. The brickwork is orange bricks with thin joints contrasting with the white painted and plastered corners, the rich cornice, the white painted balcony and ochre yellow painted blinds. The northern facade is occupied by a white painted veranda with a kinked pent roof.
One year after the villa was built it was sold to the German knife-, and scissors manufacturer Carl Erbschloe (1847-1902) in 1887. In 1889, Elisabeth von Wied (1843–1916), who was queen of Romania, stayed in Domburg. In that time, she was world famous as writer of Romanian folk stories and published her stories under the pseudonym Carmen Sylva. In the very September she spent a month in Domburg, her portrait was on the cover of the American magazine The Cosmopolitan. During her visit to Domburg she stayed in Villa Duinoord, which doesn't exist anymore. Because of the great sea view, she accepted an invitation to stay in his Villa Maria on a daily basis. After which he renamed his villa Erbschloe to Carmen Sylva.
Since 1997, Villa Carmen Sylva is an official state monument and had been thoroughly renovated in 2001. This villa is currently still in use as a summer residence and is private property of a family from Wassenaar.
Characteristics
Year of construction: 1885
National Monument: Since 1997
Open to the public: No, the villa is private property, is not rented out and can't be visited (to view the interior).
Furthermore Villa Carmen Sylva is near the following sights: Badpaviljoen (±60 m), Galerie Zeevonk (±200 m), Old Town Hall (±250 m), Marie Tak van Poortvliet (±300 m) & Water Tower (±400 m).
For information:
Noordstraat 39, Domburg