Water Tower - Monument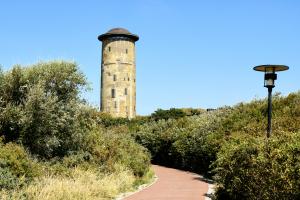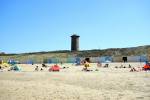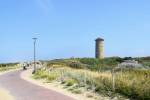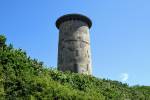 The Water Tower is Domburg's main landmark. Situated on top of the dunes, amidst natural monument De Manteling. The brick part with its characteristic copper roof, similar to a British soldier's helmet, is the first thing you see in Domburg when you come from the direction of Oostkapelle. The color of the upper part is a result of oxidized copper roof panels. The building can be found on virtually every postcard from Domburg.
The Water Tower in Domburg is designed in 1933 by architect Hendrik Sangster (1892-1971) and built by commission of the municipality. The tower is 28,5 m tall and had a storage capacity of 200 m3. The drinking water came from the nearby water extraction-, and natural area Oranjezon. The Water Tower ensured there was constant pressure on the water piping. The Water Tower was severely damaged in the Second World War. The filled holes are still clearly visible. Since 1997, the Water Tower is an official State Monument.
The current owners, a familie from Bilthoven and a familie from Amsterdam, bought the building in 2004. After a renovation in 2016, two apartments have been created in the old tower, which could be used as weekend- or holiday house with a common upper-, and lower floor. The ground floor has a kitchen, the first floor has the living room and the bedrooms are situated on the second and third floors, above those is the panoramic room, which can be reached via the former reservoir, with a wide view over Walcheren and the North Sea. The characteristic silhouette was kept by using special wooden blinders for the windows, whilst still allowing daylight and view to the inside.
Open to the public: No, the Water Tower is private property, is not rented out and can't be visited (to view the interior).
Furthermore Water Tower is near the following sights: Badpaviljoen (±350 m), Villa Carmen Sylva (±400 m), Marie Tak van Poortvliet (±400 m), Galerie Zeevonk (±400 m) & Old Town Hall (±450 m).
For information:
Nehalenniaweg 20, Domburg