Huis Duinwijck, Zuiverseweg 7 - Cottage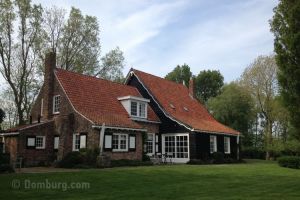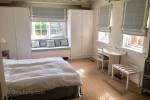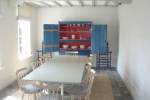 Beautiful big family house a little outside of Domburg on the Zuiverseweg 7. Big private garden. D

Ground floor:
Big drawing room with fireplace, dining room with table for 12 persons, big kitchen with 2 dishwashers. Library. A big bedroom with 2 beds with bathroom and WC.

Upstairs:
Five bedrooms each with 2 beds, (one with bathroom). Two bathrooms on the same floor and 2 WC. Washing machine, tumble dryer.
Much privacy.
Private parking for more cars.

Table tennis table and 8 bicycles.

PLEASE NOTE THAT HIS HOUSE CAN ONLY BE RENTED FOR A MINIMUM OF 4 DAYS, AND IN HIGH SEASON WITH A MINIMUM FOR 7 DAYS!
For information and reservation
Mevr. E. de Jong
mail.
E-mail
Characteristics
Price indication: €400,00 to €500,00 per night.
Max. 12 personen.
Floor space: ±300 m².
Pets allowed after consultation.
No smoking.
Location
Distance to the beach: ±1,1 km.
Distance to the city centre: ±800 m.
Occupancy rate
March 2021
09
1
2
3
4
5
6
7
10
8
9
10
11
12
13
14
11
15
16
17
18
19
20
21
12
22
23
24
25
26
27
28
13
29
30
31
April 2021
13
1
2
3
4
14
5
6
7
8
9
10
11
15
12
13
14
15
16
17
18
16
19
20
21
22
23
24
25
17
26
27
28
29
30
May 2021
17
1
2
18
3
4
5
6
7
8
9
19
10
11
12
13
14
15
16
20
17
18
19
20
21
22
23
21
24
25
26
27
28
29
30
22
31
June 2021
22
1
2
3
4
5
6
23
7
8
9
10
11
12
13
24
14
15
16
17
18
19
20
25
21
22
23
24
25
26
27
26
28
29
30
July 2021
26
1
2
3
4
27
5
6
7
8
9
10
11
28
12
13
14
15
16
17
18
29
19
20
21
22
23
24
25
30
26
27
28
29
30
31
August 2021
30
1
31
2
3
4
5
6
7
8
32
9
10
11
12
13
14
15
33
16
17
18
19
20
21
22
34
23
24
25
26
27
28
29
35
30
31
September 2021
35
1
2
3
4
5
36
6
7
8
9
10
11
12
37
13
14
15
16
17
18
19
38
20
21
22
23
24
25
26
39
27
28
29
30
October 2021
39
1
2
3
40
4
5
6
7
8
9
10
41
11
12
13
14
15
16
17
42
18
19
20
21
22
23
24
43
25
26
27
28
29
30
31
November 2021
44
1
2
3
4
5
6
7
45
8
9
10
11
12
13
14
46
15
16
17
18
19
20
21
47
22
23
24
25
26
27
28
48
29
30
December 2021
48
1
2
3
4
5
49
6
7
8
9
10
11
12
50
13
14
15
16
17
18
19
51
20
21
22
23
24
25
26
52
27
28
29
30
31
January 2022
52
1
2
01
3
4
5
6
7
8
9
02
10
11
12
13
14
15
16
03
17
18
19
20
21
22
23
04
24
25
26
27
28
29
30
05
31
February 2022
05
1
2
3
4
5
6
06
7
8
9
10
11
12
13
07
14
15
16
17
18
19
20
08
21
22
23
24
25
26
27
09
28
Location