Huis Duinwijck, Zuiverseweg 7 - Cottage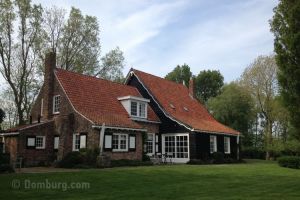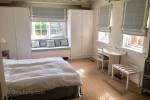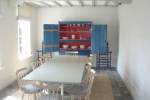 Beautiful big family house a little outside of Domburg on the Zuiverseweg 7. Big private garden. D

Ground floor:
Big drawing room with fireplace, dining room with table for 12 persons, big kitchen with 2 dishwashers. Library. A big bedroom with 2 beds with bathroom and WC.

Upstairs:
Five bedrooms each with 2 beds, (one with bathroom). Two bathrooms on the same floor and 2 WC. Washing machine, tumble dryer.
Much privacy.
Private parking for more cars.

Table tennis table and 8 bicycles.

PLEASE NOTE THAT HIS HOUSE CAN ONLY BE RENTED FOR A MINIMUM OF 4 DAYS, AND IN HIGH SEASON WITH A MINIMUM FOR 7 DAYS!
For information and reservation
Mevr. E. de Jong
mail.
E-mail
Characteristics
Price indication: €500,00 to €600,00 per night.
Max. 12 personen.

Bedrooms: 6.
Bedden: 12.
Bathrooms: 3.

Floor space: ±300 m².
Pets allowed after consultation.
No smoking.
Washing machine.
Dryer.
Fireplace.
Kitchen
Refrigerator.
Freezer compartment.
Coffee machine.
Water boiler.
Toaster.
Dishwasher.
Oven.
Microwave.
Sanitary
Shower.
Bath.
Toilet.
Second toilet.
Sink.
Media
Wi-Fi internet.
TV.
Foreign TV channels.
Child Facilities
High chair (child/baby chair).
Cot / child's bed.
Outside
Garden.
Terrace.
Garden furniture.
Car parking place.
Bicycle storage.
Storage room.
Location
Distance to the beach: ±1,1 km.
Distance to the city centre: ±800 m.
Occupancy rate
October 2022
39
1
2
40
3
4
5
6
7
8
9
41
10
11
12
13
14
15
16
42
17
18
19
20
21
22
23
43
24
25
26
27
28
29
30
44
31
November 2022
44
1
2
3
4
5
6
45
7
8
9
10
11
12
13
46
14
15
16
17
18
19
20
47
21
22
23
24
25
26
27
48
28
29
30
December 2022
48
1
2
3
4
49
5
6
7
8
9
10
11
50
12
13
14
15
16
17
18
51
19
20
21
22
23
24
25
52
26
27
28
29
30
31
January 2023
52
1
01
2
3
4
5
6
7
8
02
9
10
11
12
13
14
15
03
16
17
18
19
20
21
22
04
23
24
25
26
27
28
29
05
30
31
February 2023
05
1
2
3
4
5
06
6
7
8
9
10
11
12
07
13
14
15
16
17
18
19
08
20
21
22
23
24
25
26
09
27
28
March 2023
09
1
2
3
4
5
10
6
7
8
9
10
11
12
11
13
14
15
16
17
18
19
12
20
21
22
23
24
25
26
13
27
28
29
30
31
April 2023
13
1
2
14
3
4
5
6
7
8
9
15
10
11
12
13
14
15
16
16
17
18
19
20
21
22
23
17
24
25
26
27
28
29
30
May 2023
18
1
2
3
4
5
6
7
19
8
9
10
11
12
13
14
20
15
16
17
18
19
20
21
21
22
23
24
25
26
27
28
22
29
30
31
June 2023
22
1
2
3
4
23
5
6
7
8
9
10
11
24
12
13
14
15
16
17
18
25
19
20
21
22
23
24
25
26
26
27
28
29
30
July 2023
26
1
2
27
3
4
5
6
7
8
9
28
10
11
12
13
14
15
16
29
17
18
19
20
21
22
23
30
24
25
26
27
28
29
30
31
31
August 2023
31
1
2
3
4
5
6
32
7
8
9
10
11
12
13
33
14
15
16
17
18
19
20
34
21
22
23
24
25
26
27
35
28
29
30
31
September 2023
35
1
2
3
36
4
5
6
7
8
9
10
37
11
12
13
14
15
16
17
38
18
19
20
21
22
23
24
39
25
26
27
28
29
30
October 2023
39
1
40
2
3
4
5
6
7
8
41
9
10
11
12
13
14
15
42
16
17
18
19
20
21
22
43
23
24
25
26
27
28
29
44
30
31
November 2023
44
1
2
3
4
5
45
6
7
8
9
10
11
12
46
13
14
15
16
17
18
19
47
20
21
22
23
24
25
26
48
27
28
29
30
December 2023
48
1
2
3
49
4
5
6
7
8
9
10
50
11
12
13
14
15
16
17
51
18
19
20
21
22
23
24
52
25
26
27
28
29
30
31
January 2024
01
1
2
3
4
5
6
7
02
8
9
10
11
12
13
14
03
15
16
17
18
19
20
21
04
22
23
24
25
26
27
28
05
29
30
31
Location