Schelpweg 16 - DO32 - Cottage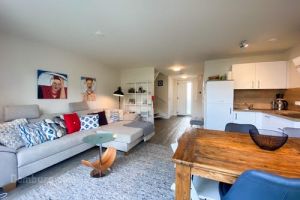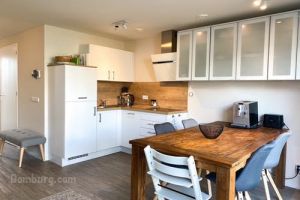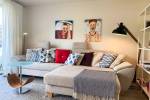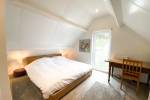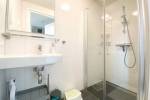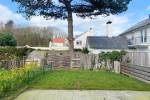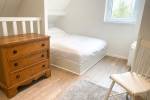 Bent u op zoek naar een huisje in Domburg? Dit prachtige vakantiehuis voor 4 personen bevindt zich direct onder aan de duinen en ligt vlak bij het strand en het centrum!

Het vakantiehuis is charmant ingericht en ideaal voor uw vakantie aan zee. In het woon-leef gedeelte staat een comfortabele bank waar u heerlijk kunt ontspannen.

De keuken is compleet ingericht en uitgerust met een 4 pits kookplaat, waterkoker, koffiezetapparaat en een toaster. Aan de ruime eettafel kunt u heerlijk tafelen met uw partner of gezin.

De badkamer is voorzien van een wastafel en een inloop douche. De woning beschikt over een apart toilet.

Via de trap komt u op de eerste verdieping waar u direct de eerste slaapkamer vind. Hier staat een twijfelaar en heeft u genoeg kastruimte om wat spullen op te bergen. Tevens vindt u hier ook de wasmachine. De 2e slaapkamer beschikt over een tweepersoons bed. Uiteraard zijn de bedden opgemaakt bij aankomst.

In de omheinde tuin kunt u uw hond prima vrij rondlopen op het gras en het terras! Ook kunt op het terras heerlijk in het zonnetje genieten aan de eettafel en gebruik maken van de BBQ.

U parkeert uw auto op eigen terrein voor de woning.

De ligging van dit vakantiehuis is werkelijk ideaal! Het huis bevindt zich direct achter de duinen. U bent dus binnen een paar minuten op het strand waar u kunt genieten van de Zeeuwse zeelucht en een wandeling door duinen. Ook het centrum ligt nabij!
For information and reservation
Walcheren Vakanties
Schelpweg 16, Domburg
tel. +31 118 583 410
mail.
E-mail
web.
Website
Characteristics
Price indication: From €950,00 per week.
Max. 4 personen.

Bedrooms: 1.
Bedden: 2.
Bathrooms: 1.

Floor space: ±40 m².
Pets not allowed.
No smoking.
Washing machine.
Kitchen
Refrigerator.
Freezer compartment.
Coffee machine.
Water boiler.
Dishwasher.
Microwave.
Outside
Garden.
Terrace.
Garden furniture.
Car parking place.
BBQ.
Location
Distance to the beach: ±300 m.
Distance to the city centre: ±20 m.
Not on holiday park.
Occupancy rate
September 2022
35
1
2
3
4
36
5
6
7
8
9
10
11
37
12
13
14
15
16
17
18
38
19
20
21
22
23
24
25
39
26
27
28
29
30
October 2022
39
1
2
40
3
4
5
6
7
8
9
41
10
11
12
13
14
15
16
42
17
18
19
20
21
22
23
43
24
25
26
27
28
29
30
44
31
November 2022
44
1
2
3
4
5
6
45
7
8
9
10
11
12
13
46
14
15
16
17
18
19
20
47
21
22
23
24
25
26
27
48
28
29
30
December 2022
48
1
2
3
4
49
5
6
7
8
9
10
11
50
12
13
14
15
16
17
18
51
19
20
21
22
23
24
25
52
26
27
28
29
30
31
January 2023
52
1
01
2
3
4
5
6
7
8
02
9
10
11
12
13
14
15
03
16
17
18
19
20
21
22
04
23
24
25
26
27
28
29
05
30
31
February 2023
05
1
2
3
4
5
06
6
7
8
9
10
11
12
07
13
14
15
16
17
18
19
08
20
21
22
23
24
25
26
09
27
28
March 2023
09
1
2
3
4
5
10
6
7
8
9
10
11
12
11
13
14
15
16
17
18
19
12
20
21
22
23
24
25
26
13
27
28
29
30
31
April 2023
13
1
2
14
3
4
5
6
7
8
9
15
10
11
12
13
14
15
16
16
17
18
19
20
21
22
23
17
24
25
26
27
28
29
30
May 2023
18
1
2
3
4
5
6
7
19
8
9
10
11
12
13
14
20
15
16
17
18
19
20
21
21
22
23
24
25
26
27
28
22
29
30
31
June 2023
22
1
2
3
4
23
5
6
7
8
9
10
11
24
12
13
14
15
16
17
18
25
19
20
21
22
23
24
25
26
26
27
28
29
30
July 2023
26
1
2
27
3
4
5
6
7
8
9
28
10
11
12
13
14
15
16
29
17
18
19
20
21
22
23
30
24
25
26
27
28
29
30
31
31
August 2023
31
1
2
3
4
5
6
32
7
8
9
10
11
12
13
33
14
15
16
17
18
19
20
34
21
22
23
24
25
26
27
35
28
29
30
31
September 2023
35
1
2
3
36
4
5
6
7
8
9
10
37
11
12
13
14
15
16
17
38
18
19
20
21
22
23
24
39
25
26
27
28
29
30
October 2023
39
1
40
2
3
4
5
6
7
8
41
9
10
11
12
13
14
15
42
16
17
18
19
20
21
22
43
23
24
25
26
27
28
29
44
30
31
November 2023
44
1
2
3
4
5
45
6
7
8
9
10
11
12
46
13
14
15
16
17
18
19
47
20
21
22
23
24
25
26
48
27
28
29
30
December 2023
48
1
2
3
49
4
5
6
7
8
9
10
50
11
12
13
14
15
16
17
51
18
19
20
21
22
23
24
52
25
26
27
28
29
30
31
January 2024
01
1
2
3
4
5
6
7
02
8
9
10
11
12
13
14
03
15
16
17
18
19
20
21
04
22
23
24
25
26
27
28
05
29
30
31
Location